Parade Technologies has added two new devices to its family of SATA/eSATA/SAS bi-directional repeater ICs (also known as redriver ICs). The PS8521 devices are 6Gb/s SATA3 repeater ICs to incorporate adaptive equalization technology, which compensates for signal loss due to variations in PCB design.
Parade claimed its PS8521A is the world's first SATA3 device using a power-saving 1.5V supply voltage. Along with the PS8521B, which uses a traditional 3.3V supply, these devices employ unique SATA power management features that were pioneered by Parade. Compared to alternative 3.3V SATA3 devices, the PS8521A consumes 50% less power in active transmission mode.
Designed for driving internal and external data storage and other peripherals, the PS8521 devices are ideal for notebook, PC motherboard and computer docking station redriver applications, according to Parade. Both devices support 1.5Gb/s, 3Gb/s and 6Gb/s data rates, and both are compatible with industry-standard SATA3, eSATA and SAS (serial attached SCSI) protocols. Out-of-band (OOB) signaling is also supported.
The PS8521A and PS8521B automatically detect traffic on the SATA bus, transitioning into sleep mode when no traffic is present. When traffic is detected, the devices become active with less than 10 ns latency.
To compensate for wide variations in system PCB trace and cable design and length, the PS8521 devices incorporate two important signal conditioning features: receiver adaptive equalization and output pre-emphasis technology. Adaptive equalization allows a redriver to automatically reconstruct incoming SATA signals despite challenging trace or cable electrical characteristics.
Programmable pre-emphasis enables the PS8521A and PS8521B to reduce signal jitter and optimizes the output 'eye' signal for robust transmission. These programmable features can be flexibly controlled either through an I2C port or directly through dedicated pin inputs.
Parade said the PS8521A and PS8521B are available in a 4x4mm 20-pin TQFN package. The devices are pin-compatible with a wide variety of SATA devices, allowing for rapid system design conversion to SATA3.
Both PS8521A and PS8521B are sampling now, and production volumes will be available in the third quarter of 2010, according to Parade. The devices will be sold for US$1.50/ea. in volume.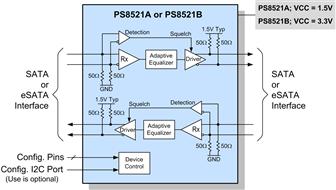 Block diagram: Parade PS8521A and PS8521B redriver ICs
Photo: Company