Toshiba readies SSD using mini-SATA
Press release; Jessie Shen, DIGITIMES
Toshiba America Electronic Components ( TAEC) has announced a series of solid state drive (SSD) modules using the latest generation Toshiba 32nm MLC NAND flash at the ongoing IDF 2009. The Toshiba SG2 modules are offered in two types, one of which is based on the new low-profile mini-SATA (mSATA) interface standard.
The new Toshiba SSDs are available in 30GB and 62GB capacities, with volume production slated for October.
The mSATA modules leverage the speed and reliability of the popular SATA interface, in a small form factor module (30x4.75x50.95mm) that connects to the system board using the low profile SATA connector. Adaptive power mode and SATA device initiated power management typically reduce power consumption to less than half of the read power level when the device is in idle, standby or sleep mode.
"Initial adoption of most SATA solid state drives has followed the HDD form factor. Our latest 32nm mSATA and half-slim case-less modules enable hardware designers to add the performance and reliability advantages of a solid state drive in a smaller footprint for notebooks, portable electronics and other embedded storage applications," said Scott Nelson, VP Memory, TAEC.
Citing IDC, mini-notebook shipments are expected to grow at an annual average of around 15% from 2009 to 2013, Toshiba said. PC manufacturers are thus looking for SSDs that combine small size with higher storage capacities and advanced performance.
Toshiba new 32nm SSD lineup

Half-slim SATA-2 module

Mini SATA-2 module

Capacity

30GB

62GB

30GB

62GB

Size (mm)

54x4x39

30x4.75x50.95

Mass

9g (Typ.)

9g (Typ.)

Interface

Serial ATA-2 (3Gbps)

Voltage

5V

3.3V

Reading speed

Up to180Mbps (sequential mode)

Writing speed

Up to 70Mbps (sequential mode)

Power consumption

Read: 1.3W (Typ.)

Write: 1.8W (Typ.)

Idle/Standby/Sleep: 65mW (Typ.)

Temperature

0 to 70 degrees Celsius

Mean time to failure

1 million hours

Shock

Operating and non-operating, 1500G
Source: TAEC, compiled by Digitimes, September 2009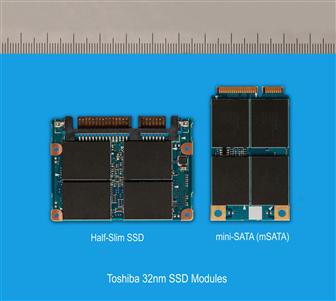 Toshiba 32nm SSD modules
Photo: Company