Micron Technology has announced the introduction of its next-generation RealSSD solid-state drives (SSDs) for enterprise computing (P200) and notebook applications (C200).
Both SSDs are sampling now with mass production expected in the fourth quarter of 2008. Additionally, Micron's Lexar Media subsidiary plans to bring this latest RealSSD architecture to consumers in the fourth quarter of 2008.
P200 drives are available from 16GB to 128GB capacities in a standard 2.5-inch form factor. Using single-level cell (SLC) NAND technology, the P200 provides 3Gb/s SATA-based sequential read and write speeds up to a maximum of 250MB/s.
In addition to the performance leap over conventional HDDs, Micron highlighted the power and reliability advantages of P200. The drive operates at 2.5W in active mode and under at 0.3W when idle. It also provides improved wear-leveling capabilities across its high-performance SLC write cycles, offering a mean time between failure (MTBF) rate of approximately two million hours compared to 300,000 to 500,000 MTBF of an HDD.
Designed using Micron's multi-level cell (MLC) NAND process technology, C200 drives will be available in 2.5- and 1.8-inch form factors. The 2.5-inch C200 will be offered up to 256GB and 1.8-inch versions range from 32GB to 128GB. Using a 3Gb/s SATA interface, the C200 products provide a read speed of up to 250MB/s and a write speed of up to 100MB/s.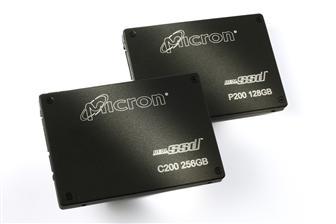 The new RealSSD lineup from Micron
Photo: Company