Not to be outdone by the likes of Dell with its XPS and Alienware enthusiast PC systems, Acer has jumped into the high-margin "gaming PC" market with the announcement of its new Predator series, part of its Aspire G range of desktop and notebook PC systems.
As is common for this market, Acer has thrown subtlety out of the window and colored the case of the new Predator a deep metallic copper which is, for better or worse, at least distinct. The case designers also appear to think doors that open to the side are too common and so have decided to fit the Predator with one that lifts upward. It looks impractical for day-to-day use, but again the design is more about drawing crowds at LAN parties, and so Acer is probably on to a winner here too.
With the door (eventually) out of the way, the Predator offers a multi-card reader and optical drive – a Blu-ray SuperMulti burner is standard – and Acer even offers a Blu-ray/HD DVD SuperMulti option although this is unlikely to be very popular.
Also at the front of the case is an Acer Easy-swap hard drive bay which allows up to four drives to be installed or removed from the system even when it is running. A feature like this is more often found in server class systems, and so its inclusion here helps the Predator stand out from most of the competition. It also makes the system's built-in support for multiple RAID types more useful.
Internally, the Predator is based on an Nvidia nForce 780i SLI motherboard which supports 3-way SLI, but Acer is currently only offering dual-GeForce 9600 GT, 9800 GTX or 9800 GX2 options.
CPU options include 133MHz FSB Intel Core 2 Extreme or Core 2 Quad series, and Acer has opted to include a liquid cooling system which it says reduces system noise and lets users push the system to the limit. Memory capacity goes up to 8GB DDR2.
Other features include dual-Gigabit LAN, onboard audio (with Sound Blaster X-Fi Platinum optional) and a choice of either Windows Vista Home Premium or Ultimate.
Pricing and availability are subject to region, but it is safe to assume that the Predator will be nothing less than "very expensive."
Acer Aspire G Predator G7700 specifications

Item

Description

CPU Support

Intel Core 2 Extreme or Core 2 Quad up to 133MHz FSB

Chipset

Nvidia nForce 780i SLI

System memory

Up to 8GB DDR2 1066/800MHz

Hard drives

4x SATA HDD up to 1TB
RAID 0, 1, 5, 1+0
Acer Easy-swap

Optical drives

Blu-ray SuperMulti burner
Blu-ray/HD DVD SuperMulti burner (optional)
SuperMulti burner(optional)

Graphics

3-way SLI ready
2x GeForce 9600 GT
2x GeForce 9800 GTX
2x GeForce 9800 GX2

Audio

Onboard HD 7.1 audio
Creative Sound Blaster X-Fi Platinum (optional)

Dimensions

490×430×190mm (L×H×W)
Source: Company, compiled by Digitimes, May 2008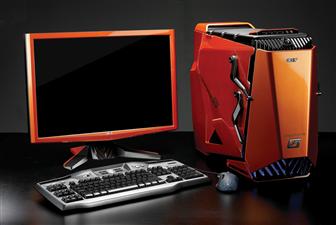 Acer Aspire G Predator G7700
Photo: Company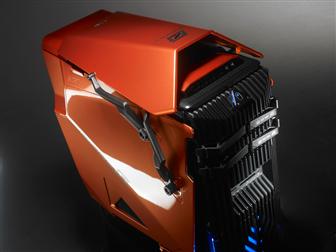 A deep copper color and a door that opens up make the Predator G7700 stand out from the crowd
Photo: Company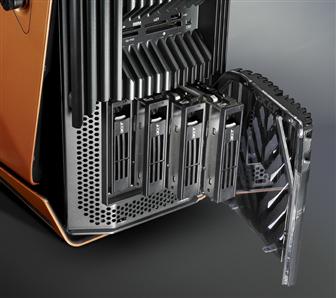 The Predator G7700 includes a four-drive Easy-swap bay
Photo: Company