Acer recently introduced the Aspire 8920G and 6920G notebook PC series featuring a built-in Blu-ray drive.
The new Aspire 8920G and 6920G series feature Intel Centrino processor technology using the latest Intel Core 2 Duo processors, the mobile Intel PM965 Express chipset and an integrated module for wireless connection supporting Acer's SignalUp with InviLink Nplify wireless technologies.
The Aspire 8920G features an 18.4-inch full-HD CineCrystal LCD panel, while the Aspire 6920G has a 16-inch display.
The system is shipped with a choice of graphics engines and can be equipped with either the Nvidia GeForce 9650M GS graphics engine with up to 1280MB of TurboCache or by the Nvidia GeForce 9500M GS with up to 1280MB of TurboCache. Both support Nvidia PureVideo HD technology, Shader Model 4.0 and Microsoft DirectX 10.
Acer Aspire 8920G and 6920G notebook specifications

Model

Aspire 8920G-933G32Bna

Aspire 6920G-833G32Bnb

Aspire 6920G-833G32Mn

CPU

Intel Core 2 Duo T9300 (6MB L2 Cache, 2.5 GHz, 800MHz)

Intel Core 2 Duo T8300 (3MB L2 Cache, 2.4 GHz, 800MHz

Intel Core 2 Duo T8300 (3MB L2 Cache, 2.4 GHz, 800MHz

Chipset

Mobile Intel PM965 Express

Memory

3GB DDR2 667 can add up to 4GB

3GB DDR2 667 can add up to 4GB

2GB DDR2 667 can add up to 4GB

Display

18.4-inch full HD (16:9 300-nit)

16-inch full HD (16:9 250-nit)

16-inch full HD (16:9 220-nit)

VGA

Nvidia GeForce 9650M GS

Nvidia GeForce 9500M GS

Nvidia GeForce 9500M GS

Storage

320GB SATA hard drive

320GB SATA hard drive

320GB SATA hard drive

2X Blu-ray disc (BD) drive

2X Blu-ray disc (BD) drive

DVD Super Multi DL burner

Price

NT$69,900 (US$2297.83)

NT$58,900

NT$49,900
Source: Company, compiled by Digitimes, April 2008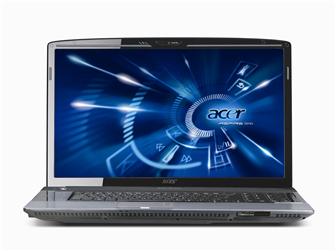 Acer Aspire 8920G notebook
Photo: Company