Graphics card makers including Asustek Computer, Micro-Star International (MSI), Leadtek Research and Albatron have launched their latest GeForce graphics cards based on Nvidia's GeForce 9800 GX2 GPU.
Asustek unveiled its dual GPU EN9800GX2/G/2DI/1G offering speeds up to 50% faster than GeForce 8800 Ultra-based cards. It also features SmartDoctor technology to allow users to overclock Shader Clocks for even better graphical performance, claimed the company.
MSI unveiled the MSI N9800GX2 graphics card while Leadtek announced the launch of its WinFast PX9800 GX2.
Asustek EN9800GX2/G/2DI/1G graphics card specifications

Item

Detail

Graphics Engine

GeForce 9800 GX2

Video Memory

1GB DDR3

Engine Clock

600MHz

Memory Clock

2GHz (two 1GHz DDR3)

Memory Interface

256-bit + 256-bit

DVI Max. Resolution

2560×1600

Bus Standard

PCI Express 2.0

DVI Output

Two DVI-I

HDMI Output

Yes

HDCP compliant

Yes

D-Sub Output

Yes, via DVI to D-Sub adaptor
Source: Company, compiled by Digitimes, March 2008
Leadtek WinFast PX9800 GX2 graphics card specifications

Item

Detail

Graphic Bus

PCI Express

GPU

Nvidia GeForce 9800 GX2

GPU/Memory Clock

600/2000MHz

Shader Clock

1500MHz

Memory Size

1GB GDDR3 (512MB x 2)

Memory Interface

512-bit (256-bit x 2)

RAMDACs

400MHz

Stream Processors

256 (128 per GPU)

DirectX Support

DirectX 10 Shader Model 4.0

Output

Dual Dual-Link DVI, HDTV
Source: Company, compiled by Digitimes, March 2008
MSI N9800GX2 series graphics card specifications

Item

Detail

Graphics Engine

GeForce 9800 GX

Bus Standard

PCI Express x16

Memory Type

GDDR3

Memory Amount

1GB

Memory Interface

512-bit (256-bit x2)

Core Clock Speed

600MHz

Shade Clock Speed

1500MHz

Memory Clock Speed

2000MHz

Memory Bandwidth(GB/sec)

62.1

Texture Fill Rate(billion/sec)

41.6

DVI Output

x2

D-SUB Output

x1(via DVI to D-Sub adaptor)

TV-Output

No

HDMI-Output

x1

Display Ouput(Max Resolution)

2560×1600

RAMDACs

400

HDTV Support

Yes

HDCP Support

Yes

HDMI Support

Yes

DirectX Version Support

10.0

OpenGL Version Support

2.1

SLI Support

Yes
Source: Company, compiled by Digitimes, March 2008
Albatron 9800GX2 graphics card specifications

Item

Detail

GPU

GeForce 9800 GX2

Stream Processors

256 (128 per GPU)

Core Clock (MHz)

600

Shader Clock (MHz)

1500

Memory Clock (MHz)

1000

Memory Amount

1GB GDDR3 (512MB per GPU)

Memory Interface

512-bit (256-bit per GPU)

Memory Bandwidth (GB/sec)

128

Texture Fill Rate (billion/sec)

76.8

Interface

PCI Express 2.0

Video Connectors

HDMI connector and

two Dual-link DVI connectors with HDCP,
Source: Company, compiled by Digitimes, March 2008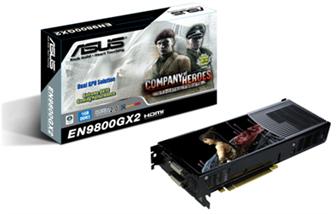 Asustek EN9800GX2/G/2DI/1G graphics card
Photo: Company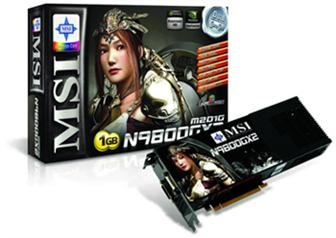 MSI N9800GX2 series graphics card
Photo: Company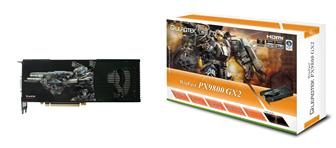 Leadtek WinFast PX9800 GX2 graphics card
Photo: Company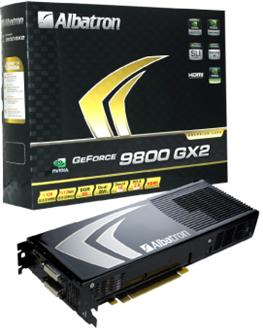 Albatron 9800GX2 graphics card
Photo: Company