Shuttle announces K45 mini-PC barebone, and systems shipping with Linux
Press release, March 7; Eric Mah, DIGITIMES
Shuttle recently introduced its K45 mini-PC barebone, based on the Intel 945GC chip set and supporting both power-saving and current dual-core processors.
Simplicity was of primary importance in the development of the K45, according to Shuttle. In contrast to the orientation of Shuttle's XPC-series towards covering as many application areas as possible, the K45 is entirely targeted in its functionality: whether as an office PC, (thin) client on a terminal server, a control PC for information stands, a cashier system or a home server, the platform-independence with respect to Windows and Linux is ideal, stated the company.
The mini-PC barebone also features Gigabit networking and has space for two hard drives. It can also optionally be equipped with WLAN.
Dispensing with an optical drive and front-side connections means additional security for your company, according to Shuttle. Company data cannot be removed and damaging software cannot be introduced in this way.
The Shuttle Barebone K45 is available now at a recommended price of 94 euros (US$144) before tax in Europe or US$99 in the US.
Shuttle is also planning to offer the KPC, a pre-built K45-based system which ships with Foresight Linux, Intel Celeron CPU and 512MB RAM, with US pricing starting at US$199.
Shuttle Barebone K45 specifications

Item

Detail

Supported CPUs

Intel Core 2 Duo E6xxx / E4xxx, Pentium Dual-Core 2xxx and Celeron 4xx (max. 65W) series with Socket 775 (to FSB 1333)

Chipset

Intel 945GC/ICH7

Memory

Max. 2 GB DDR2-667 (OC up to 800MHz)

Audio

6-channel audio

PCI

1x PCI (32 bit)

Network

Gigabit LAN

Connectivity

4x USB 2.0, 2x SATA2, 1x ATA100

Power supply

100W

Dimensions (mm)

280×190×170
Source: Company, compiled by Digitimes, March 2008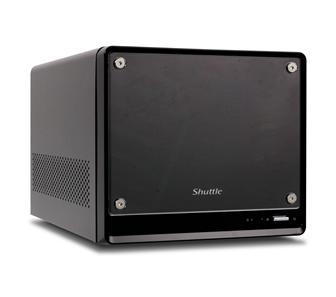 Shuttle K45 mini-PC barebone
Photo: Company