Transcend 133x CF card now in 32GB capacity
Press release, January 23; Eric Mah, DIGITIMES
Transcend Information recently released a 32GB version of its 133x CF card.
Transcend's 133x CF cards target users such as professional photographers, reporters and photography enthusiasts. To ensure compatibility and speed, these cards operate in both dual-channel and Ultra DMA mode 4 modes. Transcend's 133x CF cards achieve read/write speeds of up to 45MB/16MB per second on average, making consecutive shooting and non-stop video recording with today's high-performance digital single lens reflex cameras (DSLR) easier than ever, according to the company.
Transcend's 133x CF cards feature built-in ECC (error correction code) to automatically detect and correct errors during data transfer, which prevents data corruption and missing files.
Aside from the new extra-large 32GB version, Transcend's high-speed 133X CF cards are also available in 1GB, 2GB, 4GB, 8GB and 16GB capacities.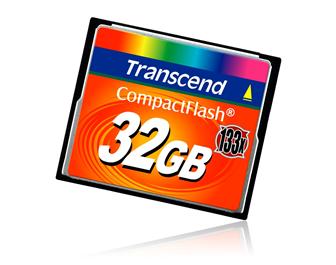 Transcend 32GB 133x CF card
Photo: Company