Fujitsu Computer Systems announced a more powerful, more secure LifeBook P1620 convertible notebook, a 2.2-pound notebook featuring a 8.9-inch touch screen display. The convertible notebook now sports a powerful Intel Core 2 Duo processor and includes Fujitsu Portshutter data leak prevention software.
The LifeBook P1620 convertible notebook meets the needs of mobile and field professionals in healthcare, field and sales force automation, and supply chain management who require the flexibility of a tablet for note-taking or navigating through forms-based applications, along with the traditional keyboard input of a notebook computer. To keep their data secure, mobile workers can use the included Fujitsu Portshutter software to restrict which I/O ports can be used and what types of USB devices are allowed. The software is designed to help prevent confidential information from being copied to removable devices, and even prevent the connection of external devices that might compromise security. The software can also temporarily restrict the use of ports when the computer is left unattended.
The Fujitsu LifeBook P1620 convertible notebook's touch-sensitive display enables users to quickly and easily navigate through applications and the Web using either a stylus or a finger. Fujitsu has enhanced the display to make it even easier to read in normal working conditions. It is now brighter, has a higher contrast ratio, and offers better viewing angles in all four directions.
The LifeBook P1620 notebook offers a bi-directional display hinge, which turns the screen in both directions for added convenience. This versatility is matched by the durability offered by the Fujitsu Shock Sensor utility, an accelerometer-based hard disk drive protection system that retracts the hard drive head if a sudden movement or vibration is detected, reducing the possibility of data loss. The sensor can also be set to password-lock the system if it is touched, preventing the unauthorized access of data.
Fujitsu LifeBook P1620 convertible notebook specification

Item

Detail

Processor

Intel Core 2 Duo ultra low voltage U7600 processor

Chipset

Intel 945GMS chipset

Memory

One Micro-DIMM slot supports DDR2 memory from 512MB to 2GB.

Display

8.9-inch WXGA touch screen display

VGA

Intel Graphics Media Accelerator (GMA) 950

Audio

Realtek ALC262
Source: Company, compiled by Digitimes, January 2008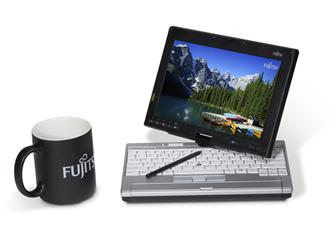 Fujitsu LifeBook P1620 convertible notebook
Photo: Company