Everex launched an ultra-mobile PC featuring the latest Open Source operating system from gOS at the ongoing 2008 Consumer Electronics Show (CES) in Las Vegas.
Measuring nine inches in length and two pounds in weight, the Everex CloudBook caters to users seeking the latest in mobile computing. With its 1.2GHz VIA C7-M ULV mobile processor, the notebook averages five hours of battery life on a 4-cell, lithium-ion battery. The CloudBook also features 30GB of internal storage, DVI output, 4-in-1 card reader and 1.3-megapixel webcam, highlighted the company.
The CloudBook, model CE1200V, showcases the gOS operating system and familiar applications from Mozilla, Skype, Google, Facebook, Faqly and OpenOffice.org. Available January 25, the computer will be available at Walmart.com for US$399.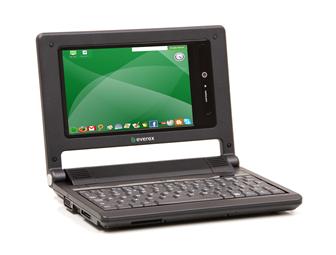 The Everex CloudBook ultra-mobile PC
Photo: Company