E-Ten Information Systems has announced the launch of its Glofiish M800 handset.
The Glofiish M800 features a sliding QWERTY keyboard, 3.5G and Wi-Fi connectivity as well as a VGA display. The Windows Mobile 6 platform device comes with built-in features including a mobile office suite for productivity, search, and support for push email, according to the company.
Compared to handsets from competing vendors, few, if any, can equal the complete feature list of the M800, according to E-Ten. While there are some models on the market that feature 3.5G and a sliding keyboard design similar to the M800, these products only have a QVGA display, one-quarter the resolution of the M800's VGA (640x480) screen, noted the company.
Since it is based on the Windows Mobile 6, the Glofiish M800 supports the extensive library of software written for Pocket PC platforms. With thousands of titles available ranging from simple freeware utilities to commercial applications, the M800 gives users the choice to expand and customize their devices in any way they need, noted E-Ten.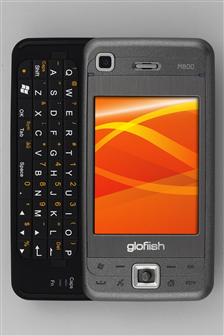 E-Ten M800 handset
Photo: Company