Samsung Electronics recently reached its target of shipping one million handsets for a 14-15% share in the Taiwan handset market, according to Scott Huang, vice president of the mobile communications unit at Samsung Taiwan.
Samsung will continue to boost its sales in Taiwan by introducing more camera, music and fashion handsets, with two 5-megapixel camera models, the G608 and G808, and three music handsets to be launched in early February 2008, Huang noted.
Although Samsung has engaged simultaneously in the development of Windows Mobile-, Linux- and Symbian-based handsets, the company will focus on Windows Mobile-based models in the Taiwan market, with the i458 to hit the local market in early 2008, Huang added.
Samsung on November 8 launched its Windows Mobile-based i608 smartphone in Taiwan. The i608 supports HSDPA and is equipped with a QWERTY keyboard. Chunghwa Telecom (CHT) is expected to purchase 10,000-20,000 i608 handsets from Samsung in the initial cooperation plan, according to sources at CHT.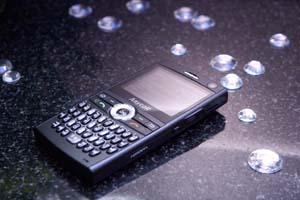 Samsung's i608 Windows Mobile-based smartphone
Photo: John Hsu, Digitimes, November 2007