Glacialtech recently announced the launch its latest Igloo 7610 PWM CPU cooler and Igloo 7610 Silent CPU cooler for AMD Socket 754, 939, 940, AM2 and F CPUs.
The CPU coolers incorporate two aluminum pipes that dissipate heat from the CPU directly into the heatsink fins.
The silent version has a low decibel (19dB), high volume (30.8 CFM) 80×80×25mm fan that runs at 1800-rpm. The PWM version has an 80×80×25mm adjustable speed fan, which ranges in speed from 800-3200-rpm, with a maximum volume throughput of 51.3CFM and a noise output of 34dB at maximum.
The entire heatsink of both versions keeps a relatively low profile and only weighs 370g.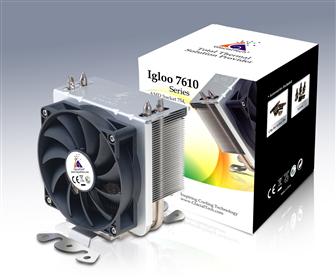 Glacialtech Igloo 7610 CPU cooler
Photo: Company