Epson Imaging Devices recently announced the development of an all-in-one LCD with an integrated cover (tempered glass or acrylic) and touch panel (resistive or capacitive). This new LCD takes advantage of the company's Photo Fine Vistarich widescreen viewing angle technology, which enables it to produce images even when viewed from 90 degrees from the top, bottom, left, or right, according to the company.
The company has developed all-in-one LCDs in which the LCD panel, cover, and touch panel are combined without an air gap, thus preventing the loss of brightness and contrast that occurs when covers and touch panels are attached to LCDs with air in between. Thanks to their composite structure, the newly developed displays enable improved visibility and greater strength in a slimmer, more compact design, said Epson.
To meet the widescreen-ranging needs of its customers, Epson Imaging Devices intends to combine these all-in-one touch-panel LCDs with the company's proprietary Photo Fine Vistarich widescreen viewing angle technology to produce high-resolution displays for use in in-car systems, such as satellite navigation, and in digital cameras and advanced mobile phones with built-in digital TV receivers.
Epson Imaging Devices will exhibit these LCD applications at FPD International 2007, which will be held from October 24 to 26 at Pacifico Yokohama, Japan.
Epson Imaging Devices: Specifications of the all-in-one LCD

Item

Details

3.1-inch model

7-inch model

Resolution

WVGA LCD (prototype)

WVGA LCD (prototype)

Screen size

7.8cm / 3.1-inch

17.7cm / 7.0-inch

Pixels

480×800

800×480

Type

Low-temperature polysilicon TFT

Amorphous silicon TFT

Display mode

Photo Fine Vistarich, transmissive

Photo Fine Vistarich, transmissive

Viewing angle (V/H)

160/160 degrees (CR>100)

160/160 degrees (CR>100)

Touch detection method

Capacitive or resistive

Capacitive or resistive
Source: Company, compiled by Digitimes, October 2007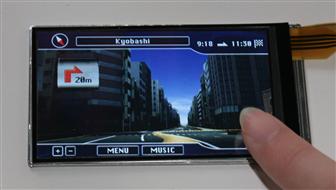 Epson Imaging Devices all-in-one LCD panel with an integrated cover and touch panel
Photo: Company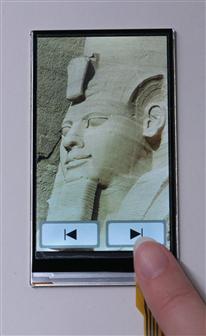 Epson Imaging Devices all-in-one LCD panel with an integrated cover and touch panel
Photo: Company