BenQ has announced the launch of the T33 mobile phone, a sleek slide phone that features a dedicated side key design that provides easy access to a full-featured digital audio player, including FM radio, and camera functions.
Weighing 90g, the BenQ T33 is designed with a stylish, sleek mirrored finish, presenting a distinctively chic appearance, according to BenQ. Consumers can slide open the BenQ T33 to reveal a one-piece keypad that is tailored for easy and accurate input of telephone numbers, the company highlighted. Designed for easy listening, the BenQ T33 allows consumers to enjoy music anywhere, even when no SIM card is inserted. With the press of the dedicated side keys, consumers can access all the controls that are needed to playback music, the company highlighted.
The BenQ T33 supports MP3, AAC and AAC+ files. The BenQ T33 integrates other entertainment functions, including a built-in FM radio and lyrics display.
The BenQ T33 is outfitted with a 2.0 megapixel camera that supports AVI video recording and playback. The BenQ T33 also has a phonebook that holds up to 1000 contacts. It can also read micro SD cards for more storage.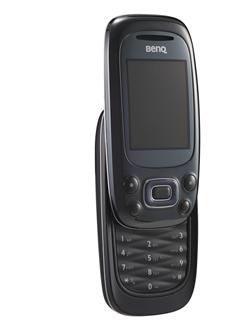 BenQ T33 mobile phone
Photo: Company