Asustek Computer's low-cost Eee PC notebook has gone on sale in Taiwan with pricing at online retailers at around NT$11,655 (US$358). This is much higher than the price of US$199 Asustek originally promoted for the portable PC, but this was to be as expected as Asustek recently admitted that the lower price would only be available for bulk purchases of a model with lower specifications, and which is intended for emerging markets.
The model now on sale in Taiwan features a 7-inch LCD display, 4GB solid state storage, 512MB DDR2 RAM and runs on an Intel mobile processor. Weight is given as 920g. The devices also features three USB 2.0 ports, Wi-Fi b/g connectivity, a VGA output, two audio jacks, Secure Digital (SD) card reader (which according to earlier reports also supports SDHC cards), webcam, speakers, and LAN and modem ports. Battery life is listed as 3.5 hours.
As previously reported the Eee PC comes loaded with a customized Linux-based operating system and a suite of software applications. These include the Firefox web browser, email and instant messaging clients, Skype, and OpenOffice 2.0. In line with Asustek's aim of promoting the Eee PC for educational use, a collection of children's learning software which covers subjects including science, math and languages is also included. Additionally, the Eee PC supports multimedia functions and includes a selection of games. Whether or not users will be able to add additional software through repositories maintained by Asustek is unclear at this stage.
Asustek has set up a service network in Taiwan including toll-free call center, service center, and a drop off/collection service with a local chain of convenience stores. Interestingly, it is explicitly made clear that the service center will not support issues related to the installation of Windows XP on the Eee PC although Aststeck notes that the hardware does support the operating system.
According information on the Asustek website a total of four models can be expected to be available.
Asustek Eee PC specifications

Eee PC 8G

Eee PC 4G

Eee PC 4G Surf

Eee PC 2G Surf

Display

7-inch

CPU

Intel

OS

Linux (hardware Windows XP compatible)

LAN

Yes

Wireless LAN

Yes

Memory (DDR2)

1GB

512MB

512MB

256MB

Storage

8GB

4GB

4GB

2GB

Webcam

Yes

Yes

Battery

4-cell 5200mAh: 3.5 hours

4-cell 4400mAh: 2.8 hours
Source: Company, compiled by Digitimes, October 2007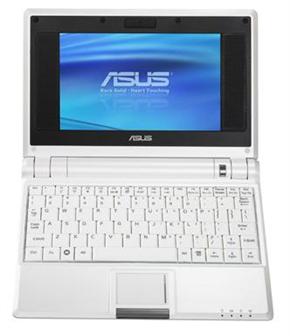 The Eee PC
Photo: Company