Asustek Computer has introduced the PCI Express interface Xonar D2X and the USB interface Xonar U1 audio devices.
The Asustek Xonar family of audio cards utilizes an Asustek exclusive technology – the new DS3D GX extension in the Xonar D2X driver; to provide full support for surround sound and hardware accelerated features by translating DirectX to the DS3D GX, according to the company. Other solutions like OpenAL require special installation and game support, while, DS3D GX does not, pointed out Asustek. Gamers can enjoy DirectX gaming with hardware enhanced surround sound and EAX effects automatically and immediately after installation, it added.
The Xonar D2X also includes Acoustics Echo Cancellation (AEC) technology to improve online voice communication quality. AEC can eliminate up-to-40dB speaker echo return and suppress noises that would otherwise enter a user's microphone, according to Asustek.
The Asustek Xonar D2X also features a signal-to-noise ratio (SNR) of 118dB for both audio in and out – reaching the maximum limit of audio quality on most PC platforms, said Asustek. Unlike generic audio cards on the market that provide the highest SNR to only the front stereo outputs, the Xonar D2X is able to deliver 118dB quality audio for all 7.1 channels, the company highlighted.
The Xonar U1 is an external USB audio device that improves the underachieving audio of notebooks and PCs by first eliminating electromagnetic interference (EMI) and noisy DC circuits inside the PC chassis. It then utilizes a high-quality DAC (digital to analog converter) to bring about "crisp, clear music or gaming audio in the original flavor" said Asustek. The Xonar U1 provides a large boost to PC gamers by supporting EAX and DirectSound hardware acceleration, noted the company.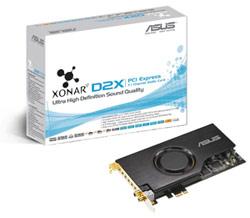 Asustek Xonar D2X PCI Express-based audio card
Photo: Company