Gigabyte Communications has announced the release of its GSmart i350 in Russia. The GSmart i350 is the company's first GPS PDA phone with a VGA screen.
The GSmart i350 runs on Windows Mobile 6 Professional and features GPS navigation, powered by a SiRF Star III chipset. The handset comes bundled with Navitel Navigator map navigation software that includes over 30 detailed maps of large cities and their regions in Russia.
Business Bureau, a distributor of smartphones and PDA phones, has received exclusive distribution rights for the GSmart i350 distribution till the end of 2007, according to Gigabyte.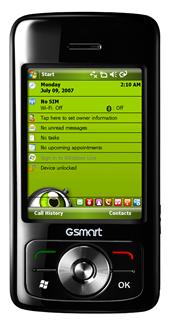 GSmart i350
Photo: Company