Cooler Master launches a new dual-fin CPU cooler
Press release, September 26; Joseph Tsai, DIGITIMES
Cooler Master has introduced its latest creation – the Hyper 212 CPU cooler; offering a unique dual-fin design, LED sickle fan blade, universal fit, and silent operation. The Hyper 212 delivers great cooling performance for both Intel and AMD CPUs.
The dual-fin heat sink design leaves space in the middle for excess airflow to pass through without the usual resistance of traditional heat sinks, which pushes hot airflow out of the chassis at an even faster rate.
The LED sickle blade fan design offers massive airflow while maintaining a low noise output. The Hyper 212 provides a universal fit, supporting a wide range of both Intel and AMD CPUs, including Intel Core 2 Quad, Core 2 Extreme, Core 2 Duo and AMD Athlon 64 X2, and AMD Athlon 64 FX.
The Hyper 212 will be available soon worldwide at a suggested retail price of US$42.90.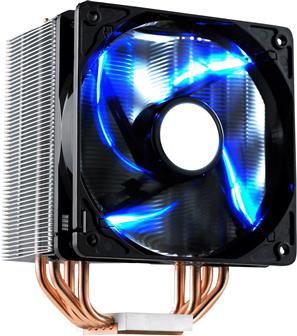 Cooler Master Hyper 212 CPU cooler
Photo: Company