BenQ has introduced four new additions to its MP series projector lineup, the BenQ MP612, MP612c, MP622 and MP622c.
The MP612 and MP612c offer a smart solution to small and medium-size meeting rooms and home offices. The projectors deliver bright, vivid images with easy-to-use functions and feature a 2,500 (MP612) and 2,200 ANSI (MP612c) Lumens brightness, an 800×600 SVGA native resolution, quiet fan noise design and a 2,000:1 high contrast ratio, highlighted BenQ. Furthermore, the projectors feature a long lamp life of up to 4,000 hours.
The MP622 and 622c feature a brightness of 2700 and 2200 ANSI Lumens, respectively, a 1024×768 XGA resolution, a noise level at 26 dB in economy mode and a stylish midnight black high gloss exterior. Both projectors are ideal for projection for a broad range of venues, ranging from small to large conference rooms, classrooms and exhibition space.
All models feature BrilliantColor technology, which brings a 50% increase in brightness of colors, and 3D color management allowing adjustments to red, green, blue, cyan, magenta, and yellow independently for hue, saturation, and value, highlighted BenQ. The Golden Ratio Wheel incorporated inside the projectors further balances true color saturation and maximizes color accuracy for a crystal-clear, vivid image reproduction.
The projectors also feature a Wall Color Correction function, to correct the output colors in accordance with the color of the wall on which the image is projected. The projectors come bundled with four application modes for PC input and three application modes for AV input as well as two personalized modes, providing optimal settings under any scenario.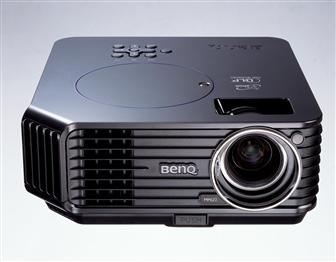 BenQ MP series projectors
Photo: Company