BenQ has introduced the C840 digital camera, successor to the C740i, featuring an 8-megapixel CCD sensor, smc Pentax lens, Face Tracking function, Shake-Free mode, high ISO options, optical zoom in video recording and 3:2 and 16:9 special output sizes.
The C840 is equipped with an array of functions including Shake-Free mode, which prevents image blur caused by shaky hands. It also supports continuous movie recording with optical zoom at widescreen format (720×400) at 30 fps. The Face Tracking function detects and tracks human faces and then focus to ensure the faces are perfectly presented in terms of color and clearness in the photos.
With ISO support up to 1600, the new BenQ C840 is one of the most light-sensitive models in its class, claimed BenQ. The 3:2 output size supports easy printing without trimming edges while the 16:9 mode supports direct display on 16:9 TVs.
The camera boasts 15 different shooting modes, including manual mode, Shake-Free mode, portrait mode and night scene mode, providing users with quick setting adjustments for a variety of shooting options. The C840 comes bundled with PictBridge functionality for direct photo printing via a compatible printer and supports SD memory cards up to 4G.
BenQ C840 digital camera specification

Item

Detail

Sensor

CCD

Image

8-megapixels

Picture Resolution

640×480 (VGA) to 3264×2448 (8M)

Zoom

Optical: 3x
Digital: 4x

Display Size

2.5-inch LTPS LCD

Display Resolution

150,000 pixels

ISO Equivalent

Auto / 50 / 100 / 200 / 400 / 800 / 1000

Movie Mode

720×400 (16:9) / 640×480 / 320×240; M_JPEG movie format; Continuous recording with sound

Storage

Built-in 6MB (Usable) / SD card compatible up to 4GB SDHC

Interface

Digital out: USB 2.0
Audio / Video output (NTSC/PAL)

Accessories

USB cable / Software CD ROM / User's manual / Hand strap / Pouch / AV cable / AA battery x 2 - battery charger set
Source: Company, compiled by Digitimes, September 2007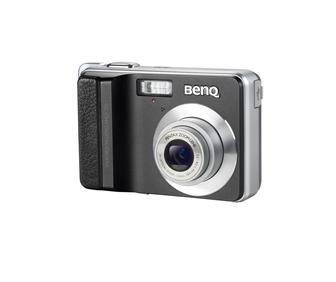 BenQ C840 digital camera
Photo: Company