Leadtek Research has announced new members of the Quadro family - entry level FX 370 and FX 570, mid-range FX 1700 and the NVS 290 and Tesla C870.
The latest Nvidia Quadro architecture takes application performance to new levels by featuring the industry's first unified architecture, said Leadtek. Designed to dynamically allocate geometry, shading, pixel, and compute processing power, the latest Nvidia Quadro graphics boards deliver optimized graphics processing unit (GPU) performance. The GPU pipeline efficiency is further enhanced by fast 3D and large texture transfers, while Nvidia's crossbar memory architecture, enables occlusion culling, loss less depth Z-buffer, and color compression.
The latest Nvidia Quadro FX graphics solutions are the reference standard for Shader Model 4.0 and next-generation operating systems enabling breakthrough ultra-realistic, real-time visualization applications. Styling and production rendering are integral functions of the design workflow.
Leadtek Nvidia Quadro series graphics cards specification

FX 370

FX 570

FX 1700

NVS 290

Frame Buffer Memory

256MB DDR2

256MB DDR2

512 MB DDR2

256MB DDR2

Memory Interface

64-bit

128-bit

128-bit

64-bit

Memory Bandwidth

6.4GB/sec

12.8GB/sec

12.8 GB/sec

6.4MB/sec

Max Power Consumption

38W

38W

42W

20W

Graphics Bus

PCI Express x16

PCI Express x16

PCI Express x16

PCI Express x16 & x1

Display Connectors

Dual DVI-I

Two DVI-I

Dual DVI-I, HDTV

DMS-59

Single Link DVI

Yes (1)

No

No

Yes (2)

Dual Link DVI

Yes (1)

Yes (2)

Yes (2)

No

Auxiliary Power Connectors

No

No

No

No

Number of Slots

1

1

1

1

Thermal Solution

Active Fansink

Active Fansink

Active Fansink

Passive Heatsink

Nvidia SLI Technology

No

No

No

No
Source: Company, compiled by Digitimes, September 2007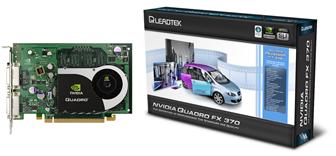 Leadtek Nvidia Quadro FX 370 graphics card
Photo: Company