Texas Instruments (TI) recently announced the introduction of a new chipset, the DarkChip 4, for DLP (digitial light processing) products. The new chipset is reported to deliver up to a 30% increase in native contrast ratio depending upon the application. The new DarkChip 4 will be available in a number of products in 2008.
All DLP product lines, including DLP HDTVs, DLP 1-chip projectors and DLP 3-chip projectors currently feature products with various chipset iterations of DarkChip technology.
DLP uses a streamlined optical system that efficiently reflects light to the screen, resulting in crisper whites, ultra-rich blacks and images that "pop" on-screen, according to TI. DLP-based products are known for their native contrast ratio levels, which ultimately sets minimum product contrast ratio level for all scene content. Native contrast ratio also sets the "black level" of the system.
TI is demonstrating the capabilities of the new chipset during the CEDIA EXPO 2007 (at booth 620) in the US. The DLP DarkChip 4 Theater featuring the new chipset produces trillions of colors combined with a native contrast ratio of 15,000:1. Additionally, there is a demonstration of a DLP HDTV with DarkChip 4 and LED illumination with a native contrast performance beyond 100,000 to 1.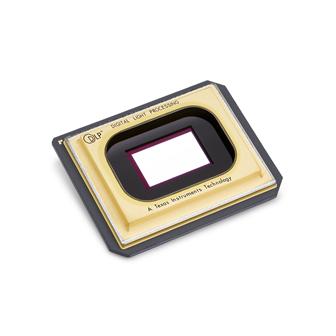 TI latest Darkchip 4 for DLP products
Photo: Company