Apple on August 21 unveiled its new 20- and 24-inch series iMac desktop PCs in Taiwan, with availability of the new iMacs to start in the Taiwan market by the end of this month, according to sources at Apple Taiwan.
To boost the sale of iMacs, the new models will be available at more competitive prices than their predecessors, with the 20- and 24-in iMacs carrying a suggested retail price of NT$42,900 (US$1,304) and NT$1,972, down 20% and 10%, respectively, from previous models with the same display sizes, the sources noted.
All new iMacs come with an Intel Core 2 Duo processor, pre-installed iLife 08 and iWork 08 application software, and specially-designed ultra-thin aluminum keyboards, according to company data.
Sales of iMac-series desktops grew in a range of 28-36% on year during the period from the third quarter of 2006 to the second quarter of 2007, higher than the industry average of 9-13% during the same period, the sources noted.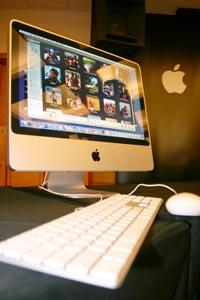 Apple's new iMac desktop PC
Photo: Yen-ting Chen, Digitimes