Taiwan market: Logitech showcases notebook PC cordless mouse with smallest USB receiver
Jimmy Hsu, Taipei; Adam Hwang, DIGITIMES
Logitech Taiwan is showcasing its VX Nano, a new cordless laser mouse for notebook PCs, at the ongoing 2007 Taipei Computer Applications Show, with the company claiming the 1.87cm-long USB receiver of the mouse to be the shortest in the world.
Logitech in 1999 offered its first cordless mouse model for use in notebook PCs, with the USB receiver being 9.5cm in length and weighing 105 grams, the company pointed out. Through continued R&D efforts, the dimension of the USB receiver was reduced to its current size to meet the requirement of notebook users for a light-weight and small receiver, Logitech Taiwan indicated.
The VX Nano is available for pre-sale order at a recommended price of NT$2,590 (US$79) at the show, Logitech Taiwan noted.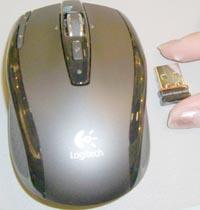 Logitech VX Nano cordless laser mouse and USB receiver
Photo: Jimmy Hsu, Digitimes, August 2007