Panasonic recently announced that the company will introduce, worldwide, write-once Blu-ray Discs (BD-R) with 4x writing speed. The new discs will be available in 25GB and 50GB capacities, which will be introduced in the market this July and September, respectively, according to the company.
The new discs have the capability of 4x speed writing and reading, allowing users to handle large amounts of data or high-definition (HD) content with greater convenience. Panasonic said it is the first company to announce the market introduction of 4x BD-R Discs as of July 3, 2007.
The new 4x discs have the maximum data transfer speed of 144Mbps, which means they can copy a 1GB folder in just one minute, while a DVD-RW (2x data transfer speed) needs six minutes, according to Panasonic. This is achieved by the application of new phase-change recording technology, which results in precise and stable recording even when writing at 4x high speed. Panasonic succeeded in applying this technology to not only single layer discs but also to dual layer discs, allowing users to write 50GB data at 4x high-speed without turning over the disc.
Also the newly developed recording layer has a wide power margin at any writing speed from 1x to 4x. This enables high quality recording, even if the drive's laser power fluctuates, resulting in greater overall drive compatibility.
The new discs offer low error rate thanks to a newly developed film forming technology which minimizes dust generated in the sputtering process. The error rate is reduced to 1/10 that of a conventional disc, ensuring high reliability and a high quality recording, said the company.
Panasonic 4x BD-R Disc specifications

Item

Details

Format name

Blu-ray Disc Recordable Format Ver. 1.2

Model number

LM-BR25LDE

LM-BR50LDE

Data capacity

25GB

50GB

Layer constitution

Single sided/single layer

Single sided/dual layer

Recording format

Phase change recordable

Laser wavelength

405nm (Blue-violet laser)

Objective lens numerical aperture (NA)

0.85

Disc diameter/thickness

120mm×1.2mm

Track pitch

0.32-micron

Minimum mark length

0.149-micron

Data transfer speed

36Mbps(1x)/72Mbps(2x)/144Mbps(4x)

Hard coating

Yes
Source: Panasonic, compiled by Digitimes, July 2007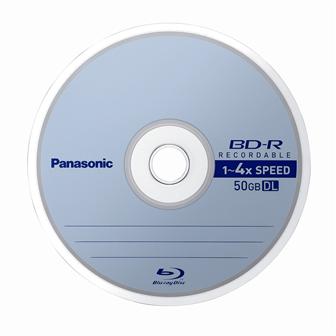 Panasonic's new 4x BD-R Disc
Photo: Company