Seagate unveils 1TB hard drives
Press release, June 26; Eric Mah, DIGITIMES
Seagate recently announced a one terabyte (TB) hard drive product lineup in its Barracuda hard drive series.
As the industry's only second-generation desktop and enterprise perpendicular magnetic recording (PMR) hard drives, the Barracuda 7200.11 and Barracuda ES.2 deliver 1TB of capacity, 7,200-rpm spin speeds, average seek times of 8.5ms, caches up to 32MB and a five-year limited warranty. Seagate's newest hard drives pack 1TB of data on just four discs to provide cool operating temperatures and low power consumption, which help extend drive life, according to the company.
The Barracuda ES.2 is a newly designed product optimized for demanding business-critical and nearline enterprise storage environments including, networked and tiered storage solutions, reference/compliance storage, disc-to-disc backup and restore, archiving solutions, rich media content storage and collaboration.
The Barracuda ES.2 hard drive's robust new features stand out in performance, reliability, capacity, and energy efficiency. Among them is its new RVFF (rotational vibration feed forward) system, designed to sustain performance in densely-packed multi-drive systems. The Barracuda ES.2 also boosts reliability with an industry-best unrecoverable error rate that is 10 times better than desktop class drives and a 1.2 million hour mean time between failure at full 24x7 data availability, according to Seagate.
With the introduction of the Barracuda ES.2, Seagate is first to provide customers with a SAS interface option in addition to SATA, stated the company, adding that SAS offers greater levels of reliability, data integrity and performance for business-critical and nearline enterprise environments. The choice of SATA or SAS also enables greater system-design and integration flexibility for solution builders and OEMs, noted Seagate.
Seagate's new PowerTrim technology is integrated into the Barracuda ES.2 and dynamically manages drive power consumption at all levels of activity. With PowerTrim, the Barracuda ES.2 addresses the IT dilemma facing energy-constrained data centers by delivering a 20% reduction in overall drive power consumption and a best-in-class 55% reduction in watts-per-gigabyte.
Seagate's Barracuda 7200.11 drives stands alone in performance among high-capacity desktop hard drives, with category-leading 105MB/s sustained transfer rate, the highest ever, according to Seagate. And with a low power rating of eight watts at idle, the Barracuda 7200.11 is not only energy-efficient, but also operates cooler, increasing reliability, noted the company, adding that the Barracuda 7200.11 also delivers industry-leading acoustics, as low as 2.7 Bels, which is nearly undetectable by the human ear.
The Barracuda ES.2 and 7200.11 will begin shipping in volume during the third quarter. The 1TB Barracuda 7200.11 will be offered at an MSRP of US$399.99.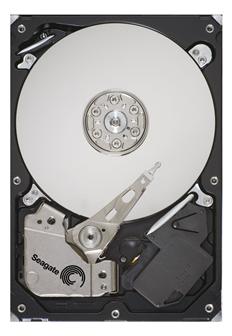 Seagate's 1TB Barracuda hard drive
Photo: Company