Thermaltake Technologies recently announced the addition of its NBcool series of coolers to its notebook cooler offerings. The T500, T1000 series of the NBcool line support up to 15-inch notebooks and use fans ranging from 70mm to 120mm to provide the best cooling with efficiency and silence improving performance of the notebook, according to the company.
Thermaltake's NBCool T500 is black accented with racing inspired lines, noted Thermaltake, adding that cooling on the T500 is accomplished with two 80mm fans that produce little noise.
The NBCool T1000 utilizes one 120mm LED fan operating at low speed for silence and emits a cool blue light for visual effect, stated Thermaltake.
The NBCool T2000 is only half the size of the T1000 but works just as well with two 70mm fans blowing onto the notebook and also elevating the notebook to increase air flow and discharge heat from the bottom of the notebook, said the company.
The NBCool series is powered through the USB port of the computer, reducing the need to carry around any bulky AC adapters, noted Thermaltake. The ergonomic design of the series lets the wrist align naturally when typing and increases comfort to the user, according to the company.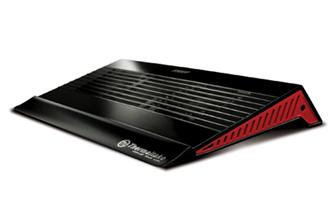 The Thermaltake NBcool T2000 notebook cooler
Photo: Company