Nokia announced on June 11 shipments of its N77 PDA phone will start in Finland and that later this month Vietnam and India will start shipments of the device.
The Nokia N77 features mobile TV capabilities based on the DVB-H mobile TV standard.
The Nokia N77 offers the advantage of 30 second replay and live TV watching continues after the replay clip, noted Nokia. Through the Program Guide in the mobile TV application, viewers can see program information up to seven days, browse TV channels, purchase new channels if desired and select the TV program they are interested in, according to the company.
The N77 features functions common on most Nokia N-series producst, including MP3 player, 2-megapixel camera (1600×1200 pixels), web browsing, email access, calendar and to-do lists.
The Nokia N77 is based on the the Symbian operating system and will be offered in markets where commercial mobile TV services based on DVB-H technology are available.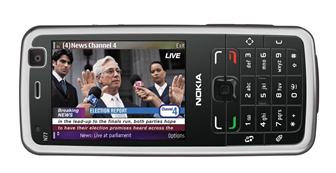 The Nokia N77
Photo: Company