Mio Technology has announced its new Navsteadi navigation technology at Computex Taipei 2007 (TICC Hall 4, Booth 101B). Navsteadi brings in-dash like positioning accuracy and reliability to portable navigation systems.
Under the theme "Explore and Discover the World Around," Mio is showcasing a complete line-up of its latest products, including its newest car navigation systems, handheld navigation systems, GPS PDS phones, and GPS PDAs.
With closely coupled GPS and dead-reckoning (DR) sensor measurements, such as acceleration and heading data, Navsteadi improves positioning accuracy in environments where GPS signals are weak or unavailable, such as dense urban canyons or tunnels. No special installation is required to use Navsteadi and can be integrated into a device cradle.
The transition from the DR sensor to GPS antenna and vice-versa is seamless and requires no intervention by the user. With Navsteadi users can enjoy the same quality positioning typically found on expensive built-in navigation systems.
"As a global leader in the portable navigation device industry, Mio Technology is devoted to making the benefits of GPS navigation fully accessible to all," said Samuel Wang, president of Mio Technology. "With Mio Technology's expertise in hardware and software development and SiRF Technology's competencies in technological innovation, we have together developed a new solution that offers positioning reliability only previously found on costly in-dash systems."
Navsteadi high-precision technology will become available on Mio DigiWalker devices in the third quarter of 2007.
Mio is also exhibiting its latest line-up of new widescreen car navigation systems, including Mio DigiWalker C320, C520 and C720. Featuring 4.3-inch widescreen displays. For visitors interested in a device for first-time GPS users, Mio is displaying the Mio DigiWalker C220 car navigation system
In addition to its widescreen car navigation systems, Mio is also presenting for the first-time its navigation systems with TV viewing and recording functionality, including the 7-inch Mio DigiWalker C517, designed specifically for the Korean market. Equipped with a built-in Digital Multimedia Broadcast (DMB) receiver and a spacious screen, C517 is not only great for navigation, but also for entertainment on the go, allowing users to watch and record DMB TV programs. For 1-seg TV viewing in Japan, Mio also offers the 4.3-inch Mio DigiWalker C523.
For visitors seeking devices with all-in-one capabilities, Mio offers two of its newest GPS PDA phones, the Mio DigiWalker A501 and A702. Featuring built-in GPS antennas, Windows Mobile and phone capabilities, they allow users to organize, connect and navigation on one stylish and compact device. Computex 2007 is the first time the Mio DigiWalker A702 will be presented to the public.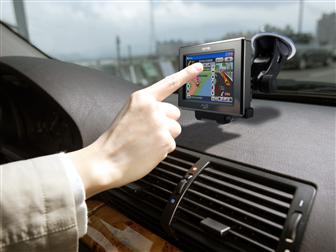 Mio C720 widescreen car navigation system
Photo: Company