Western Digital shipping 250GB 2.5-inch SATA hard drive
Press release, May 22; Eric Mah, DIGITIMES
Western Digital (WD) announced it is now shipping its 250GB WD Scorpio 2.5-inch Serial ATA (SATA) hard drives. The drives employ perpendicular magnetic recording (PMR) technology to achieve one of the highest capacities available in a small form factor drive and have WD proprietary features that make the drive quiet, use less power and run at cool operating temperatures, according to the company.
The new WD Scorpio drive further expands the company's breadth of 2.5-inch mobile hard drive offerings to capacity points ranging from 40GB up to 250GB.
The WD Scorpio features WD's exclusive WhisperDrive technology, which combines state-of-the-art seeking algorithms to yield one of the quietest 5400RPM, 2.5-inch drives available, according to the company. ShockGuard technology combines firmware and hardware advancements to protect the drive mechanics and platter surface to meet the highest combined shock tolerance specifications required for mobile and notebook applications.
Another unique WD Scorpio 250GB feature is its IntelliSeek technology, which proactively calculates an optimum seek speed to eliminate hasty movement of the actuator that produces noise and requires power, which is common in other drives, stated WD. With IntelliSeek, the actuator's movement is controlled so the head reaches the next target sector just in time to read the next piece of information, rather than rapidly accelerating and waiting for the drive rotation to catch up. This smooth motion reduces power usage by more than 60% compared with standard drives, as well as quiets seek operation and lowers vibration, according to the company.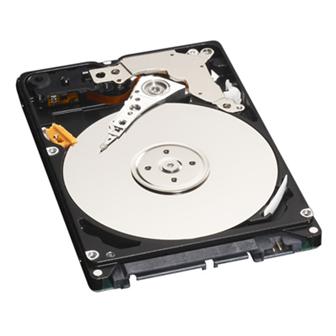 Western Digital's 250GB Scorpio 2.5-inch Serial ATA (SATA) hard drive
Photo: Company