SanDisk launches industrial grade CompactFlash cards for embedded systems
Press release, April 4; Ricky Morris, DIGITIMES
SanDisk has introduced a new line of high-performance industrial grade memory cards aimed specifically at the industrial market. In addition to fast read and write speeds, the cards provide a high level of durability and reliability for industrial applications such as industrial single-board computers, telecom equipment, point-of-sale (POS) systems and other mission-critical applications, claims the company.
Key features of SanDisk Industrial Grade CompactFlash 5000 cards include:
Durability: SanDisk industrial grade CompactFlash 5000 can withstand severe weather conditions, shock, high altitude (up to 80,000 feet) and rigorous vibrations and complies fully with MIL-STD-810F.
Reliability: SanDisk's flash management technology and IP portfolio provide dynamic and static wear leveling algorithms and dynamic bad block mapping, including advanced error detection and correction code (EDC/ECC) to ensure high data reliability.
Performance: Sustained read/write speeds are both 30 megabytes (MB) per second, making this one of the fastest in the industry for industrial grade cards of this type.
Extended temperature range: SanDisk industrial grade CompactFlash 5000 products can operate at temperatures ranging from -25 degrees C to +85 degrees C.
Scalability: SanDisk industrial grade CompactFlash 5000 products are available in 512MB, 1GB, 2GB, 4GB and 8GB capacities, which are completely interchangeable without additional integration.
Engineering samples of SanDisk industrial grade CompactFlash 5000 cards are now available to OEM customers for evaluation with mass production slated to begin by the end of May.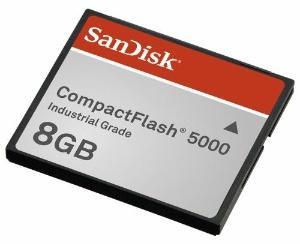 SanDisk industrial grade CompactFlash
Photo: Company