Microsoft has announced the upcoming availability of Xbox 360 Elite, a new model of its Xbox 360 video game and entertainment system that will include a 120GB hard drive and a high-definition multimedia interface (HDMI) port, and comes bundled with a high-definition cable, wireless controller and Xbox LIVE headset.
Xbox 360 Elite console is distinguished from other Xbox 360s by its black finish and HDMI output allowing for high-definition entertainment (up to 1080p) and full surround sound capabilities right out of the box, according to Microsoft. The Xbox 360 Elite will have an estimated retail price of US$479.99 slightly higher than the Xbox 360 Premium bundle which typically retails for less than US$400.
Xbox 360 Elite comes with a new 120GB HDD – previously only 20GB models were available – allowing users to increase their library of Xbox LIVE Arcade games and songs, as well as downloadable high-definition TV shows and movies available on Xbox LIVE Marketplace. The new 120GB hard drive also will be sold as a stand-alone accessory for an estimated retail price of US$179.99 to give current Xbox 360 owners the option to upgrade too.
Additional Xbox 360 Elite accessories, such as the black Xbox 360 Wireless Controller (US$49.99), Xbox 360 Play & Charge kit (US$19.99) and the Xbox 360 rechargeable battery (US$11.99), will be available separately. The Xbox 360 Elite and its accessories are expected to begin arriving in US stores on April 29.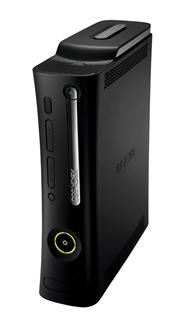 Xbox 360 Elite
Photo:Company