Seagate shipping 160GB 7200-rpm notebook hard drive with free-fall protection
Press release, March 13; Eric Mah, DIGITIMES
Seagate Technology on March 12 announced the worldwide distribution channel availability of its 7200-rpm notebook PC hard drive, which combines capacity-boosting perpendicular recording technology with free-fall protection.
The Momentus 7200.2 delivers up to 160GB of capacity using perpendicular recording technology and combines Serial ATA 3.0 Gb/s interface with a 7200-rpm spin speed. The hard drive is also offered with an optional free-fall sensor to help prevent drive damage and data loss upon impact if a notebook PC is dropped, according to Seagate. The sensor works by detecting any changes in acceleration equal to the force of gravity, then parking the head off the disc to prevent contact with the platter in a free fall of as little as eight inches.
Momentus 7200.2, Seagate's second-generation 7200-rpm notebook drive, is designed for a wide range of systems including mainstream notebook PCs, workstations, RAID enclosures, and small form factor desktop PCs, according to the company. The 2.5-inch drive is available in 80GB, 100GB, 120GB and 160GB capacities.
Seagate's Momentus series hard drives are built to withstand up to 900Gs of non-operating shock and 350Gs of operating shock to protect drive data, making them ideal for systems that are subject to rough handling or high levels of vibration, stated Seagate. The hard drives are also lean on power consumption, allowing notebook users to work longer between battery charges, and are very quiet due to Seagate's innovative SoftSonic fluid-dynamic bearing motors and QuietStep ramp load technology, claimed the company.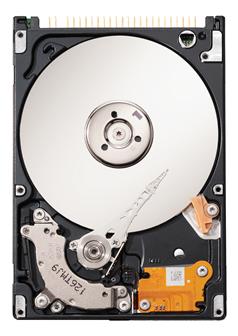 Seagate's Momentus 7200.2 160GB 2.5-inch hard drive
Photo: Company