Linksys announces switches and storage for small businesses
Press release, February 27; Eric Mah, DIGITIMES
Linksys announced a line of fully managed stackable and standalone Layer-2 switches and and network attached storage devices designed specifically for small businesses.
The Linksys stackable and standalone small business switches include the stackable SFE2000P, SGE2000 and SGE2000P, and the standalone SRW224G4P and SRW248G4P. Prices for the switches range from US$470 to US$1,000. The additional software features Linksys includes in the switches helps small businesses set up and manage their own networks while the power-over-Ethernet (PoE) and quality of service (QoS) features provide businesses the ability to add voice and video service, according to Linksys.
"The new line-up of fully managed switches target small businesses that have no IT staff and rely on solutions that are designed to be simple to use, install and configure," said David Tucker, senior director of product marketing, Linksys Connected Office Business Organization. "These switches provide needed business features not found in consumer-grade products like remote management, system availability, backup power redundancy and stacking."
Linksys also announced a line of network attached storage devices for small businesses. The new products include storage chassis without hard drives (NSS4000 and NSS6000) and units with a total storage capacity of 1.0-terabyte (NSS4000, NSS6000, NSS4100 and NSS6100). The products support RAID 0, RAID 1, RAID 1 + Spare, RAID 5, RAID 5 + Spare, RAID 10, and JBOD capabilities and includes self-monitoring analysis and reporting technology (SMART) as well as on-disc file encryption allowing for highly secure offsite backup and archiving or data migration.
Linksys' network storage solutions are available immediately with prices ranging from US$1,000 to US$2,500.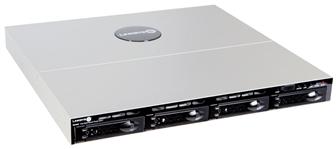 Linksys' NSS4000 network attached storage device for small businesses
Photo: Company