Although the Apple iPhone has not even hit the market, it has already become an industry measuring stick for any new multimedia handset being launched, with the latest comparison coming through the introduction of Samsung's Ultra Smart F700 on February 8th.
Like the Apple iPhone, the F700 features a full touch screen. However, although Samsung noted that the device reflects the recent trend in the telecommunications industry by using a touch screen user interface, the F700 will still include a QWERTY key pad (unlike the iPhone) for users who are not yet familiar with a touch-screen-only user interface. The F700 also features VibeTonz technology which allows users to feel the buttons accompanied by responsive vibrations.
A "Drag and drop" method of touch screen was adopted for easier menu navigation, Samsung indicated, and the device includes a music play list control. Volume, play lists, brightness of screens as well as other menu controls can be controlled utilizing the touch screen.
Samsung has also touted the 3G capabilities of the Ultra Smart F700, with 3G not initially scheduled to be supported by the iPhone. Although a High Speed Downlink Packet Access (HSDPA) network is not yet fully deployed, the handset supports the standard. Samsung pointed out that once the 7.2 Mbps HSDPA network is completely deployed, F700 users can download an 4MB MP3 song in 4.4 seconds.
Samsung added that a full HTML browser along with the QWERTY key pad enables access to the Internet for e-mail and data services. The device also features a 2.78-inch TFT LCD color display, a 5 mega-pixel camera with auto focus and Bluetooth support.
The company did not say when the handset will hit the market and at what price.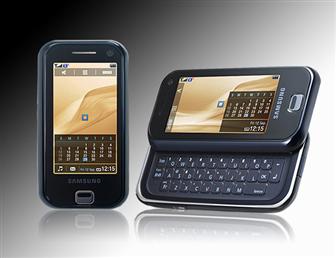 Samsung Ultra Smart F700
Photo: Company
Samsung F700 handset

Feature

Specification

Handset

HSDPA 7.2Mbps, EDGE

900/1800/1900 MHz + 2.1GHz

Camera

5 Megapixel with Auto-Focus

Display

262744 TFT (2.78-inch, 440x240)

Added features

Full Touch Screen

MPEG4/H.263/H.264/Real MP3/AAC(+)/eAAC+/Real

QWERTY Keypad

MMS / E-mail / JAVA / WAP 2.0

Bluetooth / USB

Flash UI / Document Viewer

Full HTML Browsing

Offline Mode, BGM

Memory

microSD

Size

104×50×16.4mm
Source: Samsung, Compiled by DigiTimes.com, February 2007