Dopod International, a brand-product unit of High Tech Computer (HTC), will begin to market HTC's first ultra-mobile PC (UMPC)-like device as the Dopod U1000, in the Taiwan market starting next week, according to Dopod president Jack Tong.
The launch comes much earlier than originally scheduled, said market sources, who had expected HTC to launch such a device by the end of the first quarter at the earliest.
The U1000, which is powered by a Marvel Xscale 624 MHz processor and 3.5G chipsets from Qualcomm, will run on Microsoft Windows Mobile Pocket PC OS (operating system) and feature a 5-inch touch screen and a 3-megapixel camera and an 8GB hard disk drive, according to sources at Dopod.
Dopod is currently in talks with Taiwan-based telecom service providers to jointly promote the 3.5G-enabled UMPC-like device in Taiwan, said Tong, who noted that Dopod will also launch the U1000 in other markets in Asia.
HTC itself may launch the UMPC-like device under its own hTc-brand in Europe, while co-marketing the product in the US in cooperation with Cingular, according to market sources.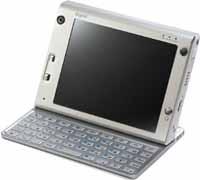 HTC's first UMPC-like unit (codenamed Athena)
Photo: Company