Sony on January 17 announced four additions to its Cybershot digital camera line: the DSC-W55, DSC-W35, DSC-S700 and DSC-S650 models.
The compact DSC-W55 and DSC-W35 models will sport 7.2-megapixel imagers and precision Carl Zeiss Vario-Tessar lenses. The cameras combine traditional, eye-level viewfinders with large LCD screens for easy framing and viewing of photos, according to the company. The W55 camera will come in Caribbean blue, pale pink, black and silver with a 2.5-inch LCD screen wrapped in a metal body, and the W35 camera will come in silver with a two-inch screen, noted Sony.
The new DSC-S700 and DSC-S650 cameras will also feature 7.2-megapixel imagers and will come in silver. The former model will house a 2.4-inch LCD wrapped in a metal body and the latter a two-inch screen.
All four new models feature 3x optical zoom capability, blur-reduction technologies (ISO), and substantial internal memory for shooting without a media card. Their storage capacities can be expanded further with optional 8GB Memory Stick Duo or Memory Stick PRO Duo flash media cards for the W-series models and 4 GB Duo media cards for the S-series models.
On the W-series cameras, Sony's Clear RAW noise reduction technology helps reduce picture noise common to low-light exposures. Sony's AF Illuminator also facilitates these models' ability to shoot well in low light. A special light is thrown on subjects before taking a shot so that the camera's imager can better detect contrast, resulting is well-focused, clear pictures, even in low light, according to Sony.
Sony claims that up to 380 shots can be taken on a full charge of the lithium ion battery used in the W55 and W35, and 460 shots on a full charge of the S700 and S650 models' optional, rechargeable AA batteries.
In stores in February, the W55 model will be available for about US$200, the W35 for about US$180, and the S650 for about US$150, noted Sony, which added that the S700 ships in March for about US$180.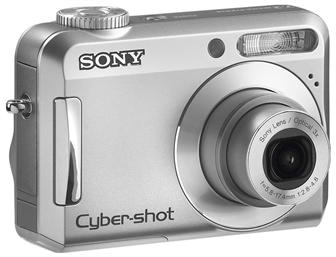 The Sony Cybershot DSC-S650 digital camera
Photo: Company