SiS on January 16 announced that the Lenovo U5020 PC, which adopts the SiS662 chipset, has been introduced to the market.
The Lenovo U5020 PC, with the embedded SiS662/SiS966L chipsets, features a Pentium D 915 CPU and 512MB of DDR2-533 memory.
SiS' integrated SiS662 chipsets is designed for the Intel P4 platform and also supports dual core Intel Pentium D processors, 64-bit computing systems, DDR2-667 memory, and PCI Express, according to SiS.
The Mirage 1 graphics engine is integrated in the SiS662 chipset to deliver better graphics performance for household applications, according to SiS. The SiS966L southbridge chipset is paired with the SiS662 northbridge chipset to provide full-equipped interfaces such as USB2.0 and SATA for users, which meets customers' requirements of upgrading the systems in the future, according to the company.
Lenovo U5020 PC specifications

Item

Details

Model number

U5020

Processor

Intel Pentium D CPU 915

Chipset

SiS662 northbridge and SiS966L

OS

Windows XP SP2

Memory

512MB DDR2-533

Hard drive

160GB 7200rpm SATA

Other equipment

DVD ROM / 22" LCD monitor

I/O

Fast Ethernet (10/100Mbps) / USB 2.0 ports / USB laser mouse / keyboard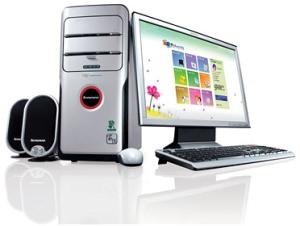 The Lenovo U5020 using the SiS662 chipset
Photo: Company