OQO recently launched its model 02 ultra-mobile PC as a successor to its groundbreaking model 01 and model 01+. The device measures just 5.6×3.3×1.0-inches and weighs around 1.0lb yet is able to run complete desktop operating systems and software, including Windows XP and even the upcoming Windows Vista.
The model 02 is powered by Taiwan-based VIA Technologies' C7-M ULV (ultra-low voltage) processor and VX700 chipset with integrated graphics. CPU speeds of 1.2 and 1.5GHz are currently available along with a choice of 512MB or 1GB of DDR2 RAM. The system integrates a 1.8-inch 30 or 60GB hard disk drive, which, according to the company, is protected by anti-drop protection technology.
The incorporated display measures 5-inches and has a native resolution of 800×480 pixels. OQO claims that the display in the model 02 is six times brighter than the one found in the company's previous generation products. A sliding mechanism allows a backlit thumb keyboard, set of mouse buttons, and a track stick pointing device to be incorporated beneath the screen.
Connectivity features of the model 02 include onboard Wi-Fi 802.11a/b/g, and Bluetooth 2.0 capabilities. The device also features audio in/out ports and a microphone, one USB 2.0 port and a HDMI port. Additionally, OQO offers a docking station that adds more ports and includes a built-in optical drive.
Pricing for the OQO model 02 starts at US$1,499. For more information visit the company website.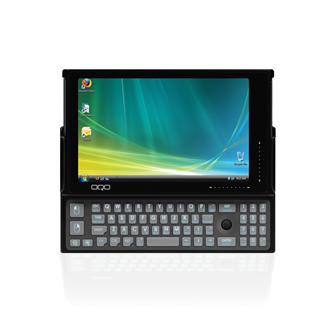 OQO model 02 running Windows Vista
Source: Company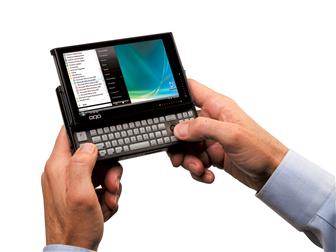 The OQO model 02 measures just 5.6×3.3×1.0-inches and weighs around 1.0 lb
Source: Company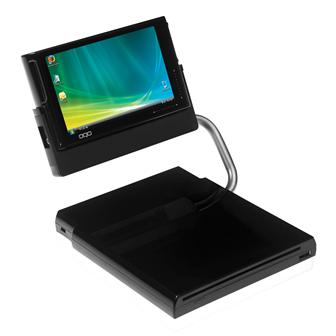 The OQO model 02 with docking station
Source: Company