Apple on January 9 introduced its much anticipated iPhone. The new device combines a mobile phone, a widescreen iPod with touch controls and an Internet communications device all into one device, according to Apple.
The iPhone sports a user interface based on a large multi-touch display and new software, letting users control iPhone with just their fingers, said Apple, adding that users can make calls by simply pointing at a name or number and can synchronize contact information from a PC, Mac or Internet service such as Yahoo!
The iPhone is a quad-band GSM phone which also features EDGE and Wi-Fi wireless technologies for data networking. The device includes an SMS application with a full QWERTY soft keyboard which is predictive to prevent and correct mistakes, according to Apple. Included in the device is also a 2-megapixel camera and a photo management application that can be synchronized with a PC or Mac.
The iPhone also functions as a widescreen iPod with touch controls that lets users "touch" their music by scrolling through entire lists of songs, artists, albums and playlists with just a flick of a finger, according to Apple. The device's 3.5-inch widescreen display allows users to watch TV shows and movies on a pocketable device, with touch controls for play-pause, chapter forward-backward and volume.
The iPhone lets users enjoy all their iPod content, including music, audiobooks, audio podcasts, video podcasts, music videos, television shows and movies. The iPhone syncs content from a user's iTunes library on their PC or Mac, and can play any music or video content they have purchased from the online iTunes store.
The iPhone features an HTML e-mail client which allows users to fetch e-mail in the background from most POP3 or IMAP mail services and displays photos and graphics right along with the text. iPhone is fully multi-tasking, so a person can read a web page while downloading e-mail in the background.
A version of the Safari web browser is featured on the iPhone, which allows users to see any web page the way it was designed to be seen, according to Apple. The iPhone also includes Google Maps, featuring Google's maps service and iPhone's maps application. Users can view maps, satellite images, traffic information and get directions, all from iPhone's touch interface, said Apple.
The iPhone employs advanced built-in sensors – an accelerometer, a proximity sensor and an ambient light sensor – that automatically enhance the user's experience and extend battery life. The iPhone's built-in accelerometer detects when the user has rotated the device from portrait to landscape, then automatically changes the contents of the display accordingly, with users immediately seeing the entire width of a web page, or a photo in its proper landscape aspect ratio, said Apple.
The iPhone's built-in proximity sensor detects when the iPhone is lifted to a user's ear and immediately turns off the display to save power and prevent inadvertent touches until iPhone is moved away. The iPhone's built-in ambient light sensor automatically adjusts the display's brightness to the appropriate level for the current ambient light, thereby enhancing the user experience and saving power at the same time.
The iPhone will be available in the US in June 2007, Europe in late 2007, and Asia in 2008, in a 4GB model for US$499 and an 8GB model for US$599, and will work with either a PC or Mac. The iPhone will be sold in the US through Apple's retail and online stores, and through Cingular's retail and online stores. Several iPhone accessories will also be available in June, including Apple's compact Bluetooth headset.
The iPhone includes support for quad-band GSM, EDGE, 802.11b/g Wi-Fi and Bluetooth 2.0 EDR wireless technologies, according to Apple.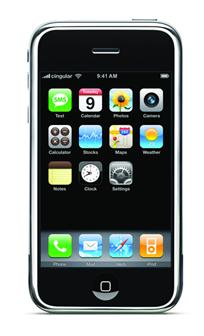 Apple's iPhone
Photo: Company