ViewSonic is showcasing a full line of its latest displays at the ongoing 2007 International CES in Las Vegas (January 8-11), including a font projector with an integrated iPod dock, 24- and 28-inch widescreen LCD monitors, two1080p LCD TVs and a iPod 37-inch LCD TV, according to the company.
Debuts 24-and 28-inch widescreen LCD monitors
ViewSonic is adding two large-size LCD monitors to its widescreen display portfolio.The 24-inch VX2435wm and the 28-inch (27.5-inch viewable) VX2835wm are Microsoft Windows Vista premium logo certified. The two models have an HDMI with HDCP input to provide diverse digital entertainment including IPTV, movies and digital photos. The widescreen screens are able to view two 8.5 by 11-inch documents side-by-side.
Other features of two new monitors include a response time of 8ms, a native resolution of 1,920×1,200, a brightness of 500 nits and a contrast ratio of 1,000:1. The models also feature multifunctional inputs to support a variety of digital content including VGA, DVI-D, composite, S-Video and component.
Both displays can be wall mounted, and are environmentally friendly with standby power consumption below one watt.
ViewSonic existing widescreen LCD monitor production lineups including 19-, 20-, 22-, and 23-inch segments.
Unveils iPod front projector; adds five more business projectors
ViewSonic unveils "the world's first" "made for iPod" DLP (digital light processing) front projector during the show. The PJ258D is built on Texas Instruments' (TI's) DLP platform, the PJ258D has resolution of 1,024×768, a brightness of 2,000 lumens and a contrast ratio of 2,000:1.
The projector also supports other multiple connectivity options including S-Video and VGA, which enable users to connect to PCs, DVD players and video game consoles.
During CES, ViewSonic is also displaying five new projectors –the PJ503D, PJ506D, PJ556D, PJ588D and PJ358. The PJ503D, PJ506D, PJ556D, and PJ588D are incorporating TI's DLP technology while PJ358 is featuring 3LCD technology.
With plug-n-play designs that are easy to install and use, the 1,500 lumen PJ503D and the 2,000 lumen PJ506D feature an 800×600 SVGA native resolution, while the 2,000-lumen PJ556D offers a native resolution of 1,024×768.
The PJ588D, delivers a brightness of 3,000 lumens, a contrast ratio of 2,000:1 and a native resolution of 1,024×768. The projector supports multiple inputs include RBG, composite and S-Video, and also can display video sources on a remote monitor.
The PJ358 LCD projector, a portable projector, packs a brightness of 2,000 lumens and a resolution of 1,024×768 XGA. The model is weighing less than four pounds and has a USB port that allows users to present images including JPG and M-JPG directly from a USB flash drive. It can also project a 60-inch image from less than five feet away.
Introduces two full HDTVs and a 37-inch iPod TV
At the show, ViewSonic also providing a glimpse of future viewing technologies such as a 37-inch LCD TV with an integrated iPod dock. The model is designed with a wireless HDMI video capability. The company is also demonstrating a 42- and a 46-inch 1080p LCD TVs during CES.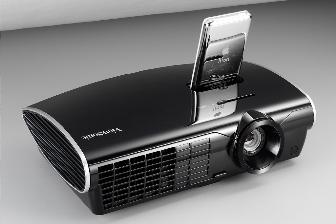 ViewSonic iPod front projector
Photo: Company