Hitachi Global Storage Technologies (HGST) today announced the so-called industry's first terabyte (TB) hard drive, the Deskstar 7K1000. Along with the Deskstar 7K1000, Hitachi also announced its CinemaStar version 1TB hard drive, which was specifically designed for digital video recording (DVR) applications.
"The industry's first 1TB hard drive represents a milestone that is 50 years in the making," said Shinjiro Iwata, chief marketing officer of HGST. Hitachi said its 1TB products deliver the performance and reliability required for the digital lifestyle. The 3.5-inch, 7200 RPM Parallel-ATA/Serial-ATA (SATA) hard drives are built on perpendicular magnetic recording technology. Shipments to retail customers will begin in the first quarter of 2007 at a suggested retail price of US$399, or US$0.40 per gigabyte (GB).
For the CinemaStar version 1TB hard drive, HGST said 1TB of storage will become a necessity. The company said high-definition video that requires four to five times more storage capacity than standard-definition video and a terabyte drive allows viewers to easily store and retrieve almost 250 hours of HD programming. CinemaStar version hard drives will be available in the second quarter of 2007 and related specifications will be available at the time of shipments.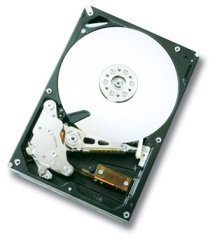 HGST introduces 1TB hard drive
Photo: HGST
Reference:
Detail specification of Deskstar 7K1000