Biostar Microtech International has announced two new high-end solutions for PCI-Express x16 systems with SLI function, the Sigma Gate VP8803GX73 and Sigma Gate VP8803GS63.
The VP8803GX73, with 768MB of onboard memory, and the VP8803GS63, with 640MB of onboard memory, represent the next generation of cards supporting DirectX 10, according to the company.
The VP8803GX73 and VP8803GS63 feature Nvidia's SLI-Ready GeForce 8800 graphics processing units (GPUs). The world's first DirectX 10 GPUs feature a powerful unified architecture that delivers an incredibly true-to-life gaming experience, according to Biostar.
Specifications

Item

VP8803GX73

VP8803GS63

GPU

8800GTX

8800GS

Engine clock

575MHz

500MHz

Memory type

DDR3

DDR3

Memory size

768MB

640MB

Memory clock

1800MHz

1600MHz

Memory interface

384bit

320bit

Interface

PCIe

PCIe

Dual RAMDACs

400MHz

400MHz

DVI

Dual

Dual

HDTV

Yes

Yes

HDCP

Yes

Yes

SLI

Yes

Yes
Source: Company, Compiled by DigiTimes.com, November 2006
VP8803GX73 and VP8803GS63
Features
Nvidia unified architecture
GigaThread technology
DirectX 10 support
Nvidia SLI technology
Nvidia Lumenex engine:16x Anti-aliasing, 128-bit floating point High Dynamic-Range (HDR)
Nvidia Quantum Effects technology
Nvidia ForceWare Unified Driver Architecture (UDA)
OpenGL 2.0 optimizations and support
Nvidia nView multi-display technology
Dual dual-link DVI support
Built for Microsoft Windows Vista
Nvidia PureVideo technology
Source: Company, compiled by DigiTimes.com, November 2006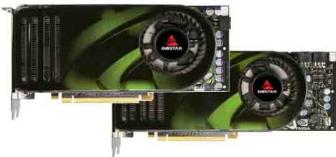 Biostar's VP8803GS63-640MB and VP8803GX73-768MB graphics cards
Photo: Company