LG recently debuted its latest FM35 PMP (portable multimedia player) in South Korea, the world's first PMP with DMB (digital multimedia broadcasting) functions, according to LG Electronics Taiwan Taipei (LGETT).
The LG FM35 features a 2.4-inch LCD screen, a size of 92×52×14mm, weighs 88 grams, plays P3/WMA/OGG/AVI/ASF audio formats, and has either a 512MB, 1GB or 2GB flash-based capacity, LGETT pointed out. The device's battery allows for four hours of watching digital TV or 55 hours of listening to music, LGETT said. The recommended retail price in South Korea is 199,000 won (US$210) for the 512GB unit, 229,000 won (US$241) for the 1GB version and 279,000 won (US$294) for a 2GB model.
The LG FM35 will not be launched in the Taiwan market for the time being because 3G handsets and digital broadcasting are not that popular yet, LGETT indicated.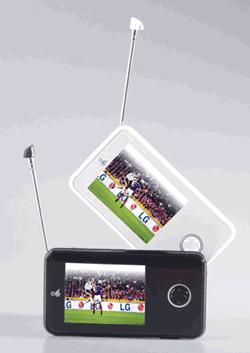 The LG FM35, claimed to be the world's first DMB PMP device
Photo: Company