PCChips using SiS761GX chipset in A31G motherboard
Press release; Jessie Shen, DIGITIMES
Silicon Integrated Systems (SiS) announced today that its SiS761GX chipset will be used on PCChips' A31G motherboard. The chipset has also been incorporated into products offered by Axper, Fujitsu Siemens, and Foxconn Electronics (the registered trade name of Hon Hai Precision Industry), according to the company.
PCChips' A31G motherboard supports the AMD Athlon 64 or Sempron CPU lines and is able to deliver sufficient graphics performance with the Mirage 1 Graphic Engine embedded in the SiS761GX chipset, according to SiS. Gamers can upgrade their system's graphics performance by simply plugging a compatible video card into the PCI Express (PCIe) interface, noted the chipset maker.
PCChips' A31G is also equipped with the SiS965L southbridge, providing two independent SATA ports with a 150MB/sec data transmission rate for a hard-disk storage device, noted SiS, adding that the SiS965L has two PCIe x1 ports and eight USB 2.0 connection ports.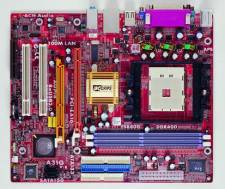 PCChips uses the SiS761GX / SiS965L chipset on its A13G motherboard
Source: SiS