Asustek Computer today introduced a 512MB version of its EN7800GTX-series graphics card, following Nvidia's announcement of the availability of its GeForce 7800 GTX 512 graphics processing unit (GPU).
Based on the Nvidia GeForce 7800 GTX 512 GPU, the new EN7800GTX/2DHTV/512M graphics card features 512MB of DDR3 memory, a 550MHz engine clock and a 1.7GHz memory clock. Availability is slated for the end of November, with a suggested price not yet released, according to the company.
At the end of June of this year, Asustek released the 256MB-version of its EN7800GTX graphics card. The card supports a 430MHz engine clock a 1.2GHz memory clock and 266MB of DDR3 memory.
Besides Asustek, Nvidia said that GeForce 7800 GTX 512 GPU-based graphics cards will also be available from graphics card makers BFG Technologies, eVGA.com, Gainward, Micro-Star International (MSI), Point of View, and XFX.
ASUS EN7800GTX graphics card series specifications

Item

EN7800GTX/2DHTV/512M

EN7800GTX/2DHTV/256M

Graphics engine

Nvidia GeForce 7800GTX

Video memory

512MB DDR3

256MB DDR3

Engine clock

550 MHz

430 MHz

Memory clock

1.7 GHz (DDR3)

1.2 GHz (DDR3)

RAMDAC

400 MHz

Bus standard

PCI Express

Memory interface

256-bit

Maximum resolution

2048x1536

VGA output

DVI-VGA adaptors

TV output

Video-in & video-out (VIVO) with HDTV support

DVI output

Dual DVI-I

Photo
Source: Company, compiled by DigiTimes, November 2005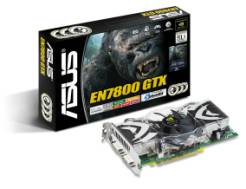 The ASUS EN7800GTX graphics card
Source: Company