This week, Taiwan-based Alontec Industrial is catching eyes, and sore bodies, at Taitronics Autumn 2005 trade fair with its new product designed for workaholics and others who need or just like to get a massage without walking far from a personal computer or notebook. Displayed at the exhibition, the USB-powered massager is now still under development, but the company is hoping to start shipments within three months.
The product will come as part of a kit called Massager Plus USB Power Cable. The kit will also include an USB power cable and cable adaptors to charge mobile phones and PDAs. The massager itself will consist of a four-button control device, which operates in six preset modes (cycle, knead, press, vibrate, pound, and tap), and two gel pads. The massage time will be up to 15 minutes, Alontec said. Pricing details about the kit are not yet available.
Alontec was founded in 1986 and is headquartered in Taipei. The company has its own manufacturing site located in Dongguan, Guangdong Province (China), and it focuses on power supplies, cables and accessories for mobile PDAs, notebooks, mobile phones and game consoles.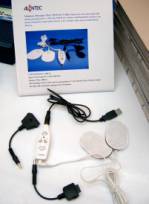 Alontec's Massager Plus USB Power Cable
Photo: Vyacheslav Sobolev, DigiTimes.com, October 2005