Life Technologies has unveiled its DDV-V1 PMP (portable multi-media player) and DV (digital video camcorder) under its DigiLife brand name, with the company stating the product will be sold in Taiwan for NT$8,490 (US$266) and other unspecified markets, according to company president Johnson Yang.
The DDV-V1 features a 2.4-inch TFT LCD color screen, a digital 10x zoom and a 3.2 megapixel CMOS sensor for taking still pictures. For recording video, the DDV-V1 supports resolutions up to 640×480 at 30 frames per second, and the device supports SD or MMC flash memory cards for storing video.
In addition, the DDV-V1 is equipped with AV-in software that enables users to record movies or video content directly from a TV or DVD player, without needing to first go through a computer.
This is the third DV model introduced by Life Technologies so far this year. The company expects to ship 400,000 DVs this year, including 60,000 units in the Taiwan market, Yang indicated.
Life Technologies focuses on R&D and own-brand marketing and contracts out production to a few Taiwan-based manufacturers, Yang noted.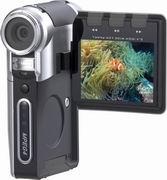 DigiLife DDV-V1