DocExpress wins this reporter's Computex gadget award
Chris Hall, DigiTimes.com, Taipei
However high-tech a reporter tries to make reports from Computex, there's a side to the show that is oriented to what can only be described as the gadget freak. Journos legging it around the four halls are likely to be side-tracked, if they have any pocket-protector imagination at all, by ultra-violet lit fans, patented CPU coolers, digital binoculars, infra-red holographic keyboards for PDAs, security flash-drive dongles, inkjet ink refillers and USB massagers.
In this reporter's opinion, the DocExpress document camera from New Image, on display on the third floor of the Taipei International Convention Center (TICC), was a clear winner in the gadget category.
The idea, with DocExpress, is to make slow, cumbersome document scanning a thing of the past. DocExpress replaces elephantine scanning with a quick one-second flick of a switch, and an overhead camera captures the document at up to 3.0 megapixels, in up to 16 million colors. An A4 document will be captured at around 180dpi.
This swing-arm camera unit is designed in Taiwan's umbrella tradition, to fold up into something neatly compact that could be easily carried around by the corporate road warrior. Unfolded, it looks rather like a miniature construction crane, at a maximum height of 445mm. There's no additional power-supply unit to lug around – the unit is powered from the USB port.
When the overhead arm is horizontal, the application will be document scanning. But flip up the arm, and snapshots and video of a range of objects and events become possible.
While most users will be capturing still images and documents up to A4 size, there are eight possible combinations of resolution and recorded video (the specs for the latter are given, by New Image, in frames per second). At the low end is 2048×1536 at 7fps. At the high end are 1025×510 at 30fps and 1224×190 at 78fps.
Output can be via fax and email, as well as to a host PC under USB 2.0, at a maximum 480Mbps. Output can also be to a projector, making the DocExpress a potential presentation tool. Output can also be to a printer, to allow DocExpress the functionality of a photocopier. Software support is provided, including a TWAIN driver.
There's a lot about the DocExpress to light the imagination of any gadget freak. The time it would take to scan a 360-page book is unimaginable, given the torturous nature of the task, and the difficulty of cramming a book under a scanner lid. A dexterous user of DocExpress could do the job, theoretically, in around six to 10 minutes.
We suspect that business cards could also be efficiently recorded using the DocExpress. Banks and offices that regularly have to process completed forms, passport pages, ID cards and the like, might also find this a useful gadget.
Volume pricing was quoted at the show as between US$119 and US$159. A sample costs US$189.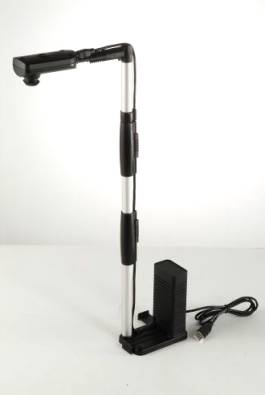 Look, no power supply! The DocExpress camera unit is powered from a USB port.
Photo: company.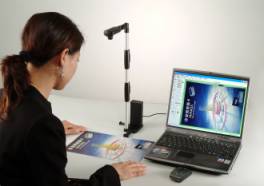 New Image claims DocExpress can capture a document in one second.
Photo: company.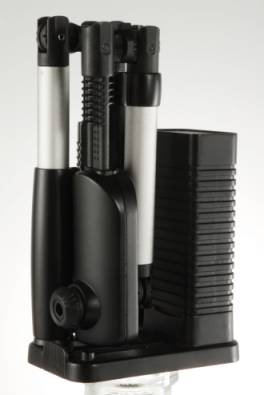 The DocExpress folds up into a compact, portable unit.
Photo: company.